ChatGPT AI Content Generator for Magento 2 - Fozzels
Written on . Posted in Fozzels.
Meet Fozzels.com - maximize your productivity by automatically generating compelling descriptions and metadata for your online store pages. Focus on growing your business, while Fozzels and ChatGPT take care of your content needs.
Automatically generate content for batches of product pages
Add metadata to product pages
Create content for multiple products by using the prompt builder in our Flows
Make unique prompts per product, by using Magento product attributes as variables
Take advantage of the OpenAI integration
Fozzels is a "middleware" SAAS solution that enables store owners to effortlessly generate and import crucial web store content.
Fozzels enables you to automatically create short and long descriptions for the product pages of your store. You can do this in "batches". Using the Flow builder, you can select for which products a Flow should be run. For example: all products of XYZ category; all products of XYZ brand, etcetera.
This Flow can then be set to process multiple products daily. This way, the content of your store will show an "organic" improvent, which is good for SEO purposes. You can load and save prompts to re-use them in other Flows. You can find more details in the Fozzels documentation. When writing a prompt in a Flow, you can use almost all of the existing Magento fields ("attributes") of your products. This way, a unique prompt is automatically sent to ChatGPT. The AI will then generate a unique product description (long or short), using the attributes that were set up. You can use any attribute that you use on your Magento store.
Fozzels will then run the Flow(s) that you have set up daily. This will trigger retrieval of the product information from your Magento store, process this, create a prompt, sent it to the OpenAI API (using GPT-3, GPT-3.5, or GPT-4), let ChatGPT write a product description tekst like you have defined in the prompt, get the text back, and automatically update the products in your Magento.
Generate Magento product content via mass action (batches)
With Fozzels, you can easily add short and long descriptions to multiple product pages at once using the Flows feature. You can select the products you need using selection boxes and then choose the appropriate action.
OpenAI is an American artificial intelligence and research company. They have developed many AI tools such as ChatGPT, DALL-E, and GPT-4. ChatGPT is a chatbot that generates humanoid text on any query asked by the user. It helps users to write a variety of content assignments, and complete legal documents, and press releases.
Discover a revolution in content generation with our Fozzels AI Assistant. This tool is seamlessly integrated with your Magento store and OpenAI, leveraging the power of the ChatGPT AI to generate content for your store.
Fozzels ChatGPT AI SAAS on the top of it offers Magento store merchants the flexibility to automatically write product content with the help of ChatGPT AI. It allows the store owners to write the product's short and long descriptions. The store owners can perform mass updates to add or update the bulk product content. The Fozzels software creates the product content as per the selected attributes (fields) and prompt.
Creating unique, engaging content is a time-consuming and labor-intensive task. This becomes even more challenging when managing a vast assortment of products or serving a multilingual customer base. Our software addresses the tedious task of content creation, offering an automated solution that effortlessly generates product descriptions, meta tags, blog posts, and more, customized to your specific requirements.
Business Value
Fozzels ChatGPT AI software is extremely favorable for eCommerce store merchants to write product descriptions effortlessly. Fozzels offers store owners to generate product descriptions automatically while not actively using the store Admin. Set it up once, and it automatically runs!

It saves a lot of time for the store owner to write the product content by themselves, or by a separate SEO agency. The business merchants do not need to type or write the content, they just have to set up a Flow in Fozzels one time, and it will give the description as a result. In that way, the middleware simplifies the process of adding or updating the product content for the store owners.
In short, Fozzels ChatGPT AI extension helps store admins generate product meta titles, keywords, and descriptions automatically. Instantly (batch) generate unique meta titles, keywords, and descriptions. Using Fozzels, the admin is freed from manually entering the meta titles, meta keywords, and meta descriptions of the products from the Magento admin dashboard. AI can generate this product metadata in a matter of seconds, thus saving the admin much time. Also, on-page SEO factors like meta titles and meta descriptions are important for ranking in Google. Magento 2 store admins can quickly generate product meta titles and meta descriptions by setting up one Flow. The Fozzels AI Content Generator for Magento 2 generates AI-curated SEO-friendly meta titles and meta descriptions, which helps in higher rankings.
Fozzels ChatGPT software for Magento 2 is a game-changer in the world of product description generation. This feature-rich software empowers online store owners with a comprehensive set of functionalities to streamline the process and create compelling product descriptions effortlessly and automatically. With our ChatGPT software, you can revolutionize your product descriptions, captivate your customers, and save valuable time and effort. Unlock the power of automated description generation and elevate your online store's content strategy to new heights. Stay ahead of the competition and deliver a superior shopping experience with compelling product descriptions that drive conversions.
Why choose Fozzels?
Reduce content creation time by leveraging the power of ChatGPT.
Boost your SEO performance through the automatic generation of product descriptions, meta tags and descriptions for your products.
Automate custom tasks such as text generation, translation, and email responses by creating customized prompts in Flows.
Our software can automatically generate content for your store using rules (Flows). You simply set up the data you wish to generate using a selection box, and schedule when you want this done, and the process will occur automatically.
Example use cases:
Improve SEO by automatically generating meta tags for all new products
Automatically generate short and long descriptions for products
Automatically translate your products and categories into different languages
Customize prompts in flows, according to your needs
Our software comes with predefined prompts for most tasks like content generation, SEO, social media texts, etc. You can expand Fozzels' possibilities by customizing our prompts and writing your own.
Fozzels allows you to:
Fully customize the text of prompts.
Choose what attributes of products or categories you want to use for the text generation.
Choose parameters of API request to OpenAI. For example, you can set a high "temperature" to receive different text variations for the same request,
Choose what OpenAI model to use. Our software supports GPT-3, GPT-3.5 (ChatGTP), GPT-4.
Automatically convert the result to HTML, if necessary.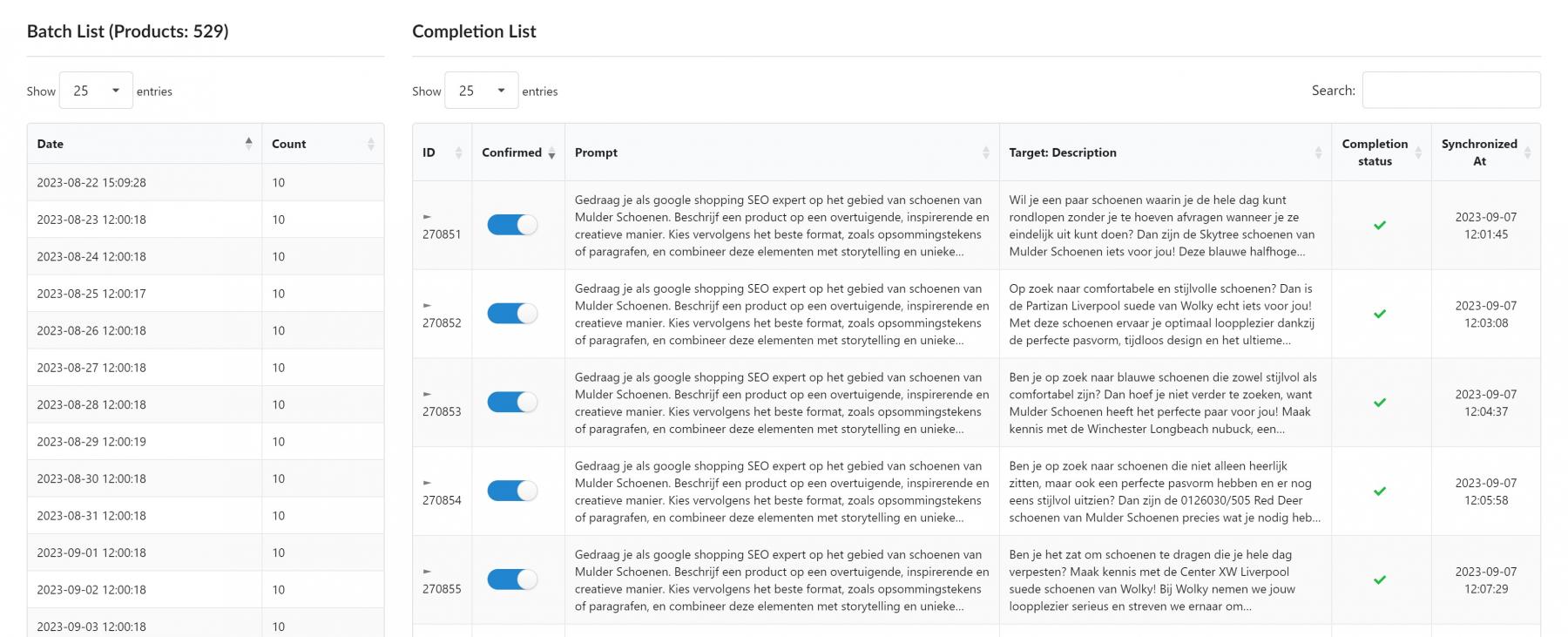 Automation of product description texts generation using ChatGPT
In the example screenshot above, you see a batch list of one of the Flows set up in Fozzels. Notice that, in this case, 10 products are updated daily. You can increase this number if you wish. In the batch list, you can see the generated prompt, and also the generated text.
Fozzels offers two modes of operation: semi-automatic, and full-auto. In semi-automatic mode, all texts are generated, but not yet synced to Magento. This gives you the opportunity to check if all texts are as you wish. With one click of a button, your Magento store is then automatically updated. In full-auto mode, all texts are generated automatically, and also automatically pushed to your Magento store.
You see that Fozzels gives you great flexibility to automate content creation for Magento using ChatGPT!
If you are interested, you can try out Fozzels by creating an account, and connecting your Magento store and OpenAI.